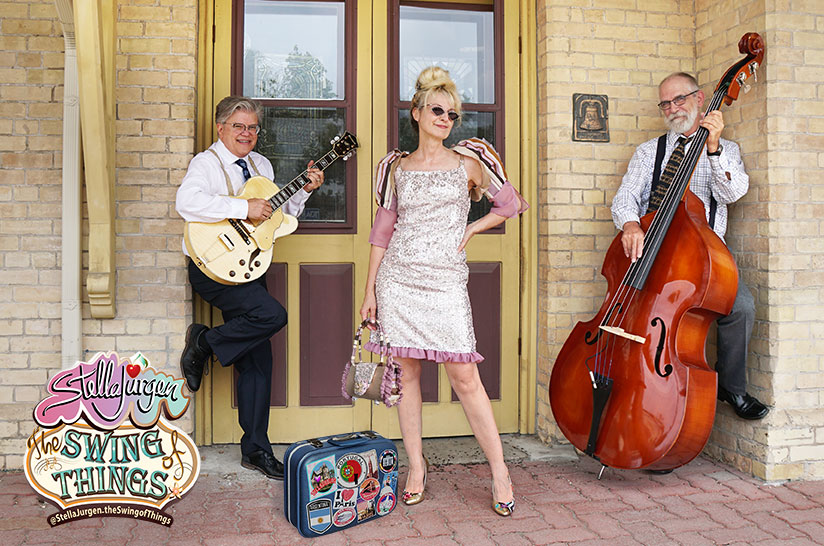 Stella Jurgen and the Swing of Things
"Stella Jurgen and The Swing of Things" is a light jazz ensemble created to elevate your event with a touch of class. We play sweet retro jazz songs from the 20s, 30s and 40s (like Blue Skies
and S'Wonderful), plus songs from the Bossa Nova era (like Quiet Nights of Quiet Stars).  Either on stage or on a reserved setting, the ensemble performs in a professional manner offering a positive and memorable experience to the audience.
James Todd, guitarist, St. Thomas – James performs with Peter Cusik on clarinet under the name "The Swing of Things".  He was influenced by guitarist George Benson, Django Reinhardt and Stephan Grappelli. Experienced performing in Big Bands in Calgary and in the London area and in a Chicago tribute band, James also played in a duo called "Shorelines" that performed from Chatham to Tillsonburg, Port Stanley to north London.  He loves the quiet Cool Jazz feel with swinging popular songs and jazz standards. https://www.theswingofthings.ca/
David Wilkins, bassist, Tillsonburg – David is a self-taught musician with 54 years of experience. He is a multi-instrumentalist, trumpet, guitar, clarinet, mandolin, ukulele, harmonica and bass. He is also a talented bass and baritone singer performing on choirs and small bands.  He currently signs with the Simcoe chapter of the Gentlemen of Harmony.  He has played as a bassist in full orchestras to five piece bands in several different genres including: gospel, country, folk, light rock, barber shop singing, classical guitar, and jazz. He  teaches music in Tillsonburg and Simcoe.
Stella Jurgen, Tillsonburg – Jazz vocalist and entertainer for the past eight years with the quartet "Stella Jurgen and Jazz Plazma" performing in the GTA. Stella was born in Buenos Aires, Argentina, grew up in Portugal and immigrated to Canada in 1985.  Recording and stage pop music artist since childhood in Lisbon, radio producer in Brampton, featured on radio and tv shows for the Portuguese community.  TV host and producer for the past three years in Etobicoke featuring arts and culture.  Stella has performed in numerous public, private and corporate events in the GTA, as well as in fine brasseries such as Black Swan Restaurant, 7 Enoteca and Hexagon Fine Dining.  Public events in Oakville Towne Square, Streetsville Summer Music Concerts, Benares Historic House Museum On the Verandah, Portuguese General Consulate, AMD, Sandman Hotel and many more. Now residing in Tillsonburg, Stella teamed up with James Todd on guitar and David Wilkins on up-right bass forming "Stella Jurgen and The Swing of Things" offering up-scale musical entertainment on stage or on a quiet setting.